Reining in the EPA and Promoting Domestic Energy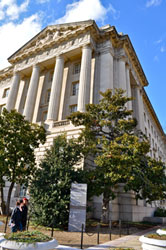 The Biden Administration's Environmental Protection Agency (EPA) extreme anti-energy policies and unchecked regulations have stifled economic opportunities, raised costs for Americans, burdened businesses and domestic energy producers, and increased our dependence on foreign adversaries like China.
House Republicans are working to fight the EPA's radical agenda and combat regulatory overreach to protect our energy, economic, and national security.
Passed in the House today, the Fiscal Year 2024 Department of the Interior, Environment, and Related Agencies Appropriations Act curbs the EPA's burdensome regulations and cuts wasteful EPA funding by nearly 40%.
House Republicans are restoring the proper checks and balances that rein in the EPA by: 
Repealing the Biden Administration's Waters of the United States (WOTUS) regulation.
Prohibiting EPA from allowing California to require that new small off-road engines, such as lawn care equipment, be zero-emission and prohibits funding for EPA regulations on light, medium, and heavy-duty vehicles.
Prohibiting funding for EPA regulatory overreach regarding ozone emissions and steam electric power plants.
Preventing EPA from imposing burdensome regulations on farmers using rodenticides to prevent animal disease and prevent crop loss on farms.
House Republicans are promoting domestic energy and access to critical minerals by: 
Requiring offshore oil and gas lease sales in the Gulf of Mexico and Alaska regions.
Requiring the Secretary of the Interior to conduct quarterly onshore oil and gas lease sales.