John Cornyn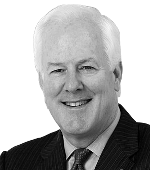 In 2014, Texans overwhelmingly re-elected Senator John Cornyn to represent them for a third term in the U.S. Senate.
Since he was first elected in 2002, Sen. Cornyn has earned a national reputation as an articulate and powerful voice for Texas and conservative values in Washington. Sen. Cornyn, a San Antonio native, strongly believes that we need more Texas solutions in Washington, which is why he consistently fights to bring the Lone Star State's commonsense solutions to the federal level.
He has committed himself to strengthening our national defense, securing our borders, repairing our broken immigration system and strengthening the economy by keeping taxes low, reducing federal spending, and fighting job-killing regulations from Washington bureaucrats. Sen. Cornyn has also been a tireless advocate for Texas military personnel, veterans, and their families, and he has fought to provide these brave Americans with the best possible support, care, and benefits.
In addition to serving on the Senate Finance, Intelligence, and Judiciary Committees, Sen. Cornyn serves as the Majority Whip, a position that gives Texas a powerful seat at Congress' leadership table.
Sen. Cornyn has served the people of Texas for the last three decades, first as a district judge and later as a member of the Texas Supreme Court and Texas Attorney General. He received his undergraduate degree from Trinity University, his law degree from St. Mary's School of Law, and his LLM from the University of Virginia Law School.
Sen. Cornyn married his wife Sandy in 1979, and they have two grown daughters.
Posts by John Cornyn