Adryana Aldeen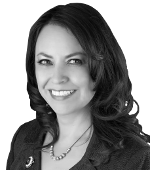 For many years Adryana Aldeen has been a consultant on intergovernmental and public relations, networking, business marketing, Hispanic issues, and as an analyst, strategist and commentator on public policy and politics. 
Adryana has been listed as a Spanish-speaking expert at the top national conservative leadership organizations by the Media Research Center: MRC Latino in Washington, D.C.  As a US Elections expert, she participated with the Bureau of International Information Programs at the Department of State.
As a Contributor, Adryana has been one of the most widely recognized, objective, center right faces as in millions of Spanish speaking households who watch Spanish speaking News and shows such as: "Al Punto con Jorge Ramos" by Univision, "Enfoque con José Diaz Balart" by Telemundo,  "Choque de Opiniones" by CNN Español, "La Noche" by  NTN24, TV Azteca, etc. 
Adryana has also participated as an Analyst for several special programs, presidential debates in 2008, 2012, 2016, and 2020, and the State of the Union addresses since 2008. Adryana hosted the radio show, VOCES con Adryana Boyne via NXA Radio in Spanish.
As a Public Relations Specialist on Hispanic Issues, Adryana is the exact person with the understanding of  a strategic communication process that builds mutually beneficial relationships between corporations, parties or peoples, and their publics.
Adryana served for nine years as the National Director of a non-profit organization VOCES Action, educating and empowering Latinos on public policy and raising funds for scholarships for outstanding Hispanic students. 
Either as a public speaker, Emcee, or as a voice-over talent, Adryana has placed her voice to grow business, attract voters, explain public policy, train, educate, or empower others.
Adryana has traveled to 41 states in the Union and several countries in Latin America, Europe,   participating as a public speaker or panelist in multiple outlets. 
Prior to her involvement in public policy, Adryana served  in Mexico and Centro America doing missionary work  teaching Biblical principles,
Adryana is married to ERISA healthcare attorney Doug Aldeen, and they reside in Austin, TX. Together they are the parents of five outstanding young men and one outstanding young lady.