NYC Ground Zero FOR and AGAINST the Mosque Protests - August 22, 2010 - We Shall Not Be Moved - Part II
In this and like communities, public sentiment is everything. With public sentiment nothing can fail; without it nothing can succeed. - Abraham Lincoln
* Continuation from NYC Ground Zero and Proposed Mosque Protest - Part 1...
FOX and Friends had Andy Sullivan from Blue Collar Corner and the 911 Hard Hat Pledge on Sunday, August 22 announcing that there was going to be a protest at Ground Zero, the day we were to return home. Neither rain nor the tight schedule kept us from being witness to America's freedoms on display. We arrived just in time to mingle with those for the Ground Zero Mosque at the corner of Church and Murray Streets. The people in this small group, about one hundred, walked about flashing their signs so that everyone could read their message as to why they supported the Ground Zero Mosque. They were quiet and controlled, almost robotic. There were the usual signs, STOP ISLAMOPHOBIA, STOP BIGOTRY, and FREEDOM OF RELIGION. There were only two signs that caught my eye. A large green sign with the message, THERE IS NO GOD BUT ALLAH, and GRIEF IS NO REASON FOR BIGOTRY AND WAR! These two signs gave me plenty of food for thought. Who are these people?
We quickly rushed to be with those against the Ground Zero Mosque. It did not take long since the groups were divided on opposite ends of Park Place, one block separation. When we walked up to the anti mosque people it was a totally different atmosphere. The sound of patriotic music resounded. The protestors were talking and standing in place waiting for the speakers to begin. You could feel their passion, their commitment to the victims of 911. Because of the rain there were plenty of open umbrellas and signs inter mixed. I immediately bonded….so many American Flags, so many patriotic tee shirts. The Ground Zero Mosque support group was devoid of any America flags or patriotic tee shirts or emblems. Amazing what people say of themselves.
The loudspeaker came on and the defense of America began. I made my way to the front where the podium and speakers were and introduced myself to Andy Sullivan. I informed him that I was from Texas and that we had come to record this very special event and to see Ground Zero. He leaned over and gave me a kiss and said, I love the Texas people, they are such fighters! I think that is what he said; the kiss threw me off guard. That was something I did not expect! But, yes, Texas people are great!
We heard Tim Brown say, "Not Here, Not Now, Not Ever!" He spoke of why the mosque was named the Cordoba House and the meaning behind it. "The Islamic (in Spain) people built a mosque right on the Catholic Church to demonstrate their triumphant, war against faith." That we must stand united to defend our principles. He told the crowd of our responsibility to each and everyone killed on 9/11.
Debra Burlingame co founder of 911 Families for a Safe and Strong America spoke to the crowd. She lost her brother Captain Charles Burlingame, a retired US Navy fighter pilot that flew United American 77 into the Pentagon. "We are here because the words 'NEVER FORGET' actually mean something to us." We will not forget that 19 funded Saudi Arabian terrorists attacked us. She reminded us that we were all attacked that day; it is NOT a local issue. This is NOT a Freedom of Religion issue she told the crowd. She also reminded us that 20,000 human remains have been recovered since 911 and 1,800 human remains in the last five years. She did not have any kind words for the 'moderate' Imam Rauf. In the Muslim world, she said, a moderate believes that you can take down America without violence. "Bring down the house of the infidel from within. That is a moderate in the Muslim world!"
NYC policeman, Daniel Rodriguez told the crowd that he believed in respect and out of compassion the mosque should not be built here. These families have suffered enough he said. He sang "You Will Never Walk Alone" with such passion and conviction that it brought tears to your eyes.
I am an American, I am a Jew, I am a woman and I am here today to say God Bless America! That is how Beth Gilinsky, organizer for the event and founder of The Coalition to Honor Ground Zero and head of the Jewish Action Alliance, introduced herself. The fight to reclaim America starts today where America was attacked at ground zero. We must do some profound searching of ourselves. How did this happen to us? Have we lost sight of the difference of good and evil? Should we give away this home of the brave for sharia law? Trade all for the instant gratification of acceptance? We must reclaim our values of our Judeo-Christian civilization. We must stand with our American brothers and sisters. Tell them "I am an American and I owe you no further explanation." We must protect the right to speak. We will not be moved, we will not comply. Her words were strong and passionate. Every American should hear her speak, for her words reach the fiber of our souls. Her statement 'how did this happen to us?' hit hard. How did we allow ourselves to get here?
I found a YouTube video with the words of the song that Beth asked the crowd to join her in singing, WE SHALL NOT BE MOVED! We should all learn the words and sing it every day. By the way, in this YouTube video Bill and I are visible.
Former slave of Islam Simon, Leader of the Sudan Freedom Walk, spoke last. His inspiring words should wake up all Americans. "I am a free man living in a free nation and speaking to the free people" he said. "I was taken from my family and given to Muslims as a gift, in other words I am a former slave to Islam." He went on to say that as Americans we do believe in freedom of religion because there are more than 100 mosques in NYC. He pleaded with Mayor Bloomberg to stand with the people! He shouted, "We will never forget what happened here on 911. Building a mosque is an insult. Say NO to the Mosque!"
No Mosque No Mosque No Mosque No Mosque was the chant of the protesters!
This is Bill's and my account of what we witnessed on August 22, 2010. I have read articles on this protest and so many are slanted to the left. Hopefully this will give you an insight as to how much we do love America and that we must stand firm against the tyranny we are presently experiencing. God always knows what favors to grant. God Bless Us, God Bless America!
AUGUST 22, 2010 NYC 11am
NY OFFICER GUARDING THAT NO ONE ENTERS AREA OF PROPOSED MOSQUE ON PARK PLACE
FOR THE MOSQUE SUPPORTERS GATHERED AT THE CORNER OF CHURCH AND MURRAY
ESTIMATED CROWD OF 100
"THERE IS NO GOD BUT ALLAH! JESUS IS HIS SERVANT!"
"Grief is no reason for bigotry and war"
AGAINST THE MOSQUE PROTESTORS GATHERED ON WEST BROADWAY BETWEEN PARK AND MURRAY
IT WAS RAINING ABOUT 11AM
ANDY SULLIVAN LOVES TEXANS
FORMER SLAVE SPEAKS TO THE CROWD
AGAINST THE MOSQUE PROTESTERS FILLED THE ENTIRE BLOCK ESTIMATED CROWD 3,000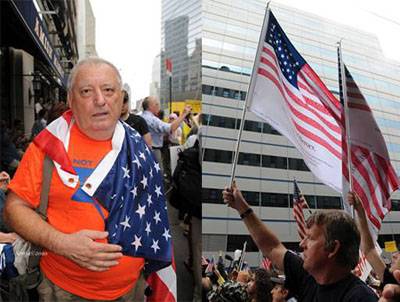 "I AM AMERICAN FIRST AND THEN I AM JEWISH!"
WORKER LIFTS HARDHAT TO SIGNIFY HE TOOK THE 'PLEDGE'
Do Not Give Up Ever!
Contact info:
E-mail Mayor Michael Bloomberg
Call his office at (212) 639-9675 or fax (212) 788-8123
Governor of New York
David A. Paterson
State Capital
Albany, New York 12224
CALL 518-474-8390
To Email The Governor:
Click here to email the Governor