(Photo, Video) One Nation Under God
It may not have been a miracle feeding of the 5,000, but nonetheless, on Saturday, December 17, 2011, over 5,000 people gathered for a rally in support of Jesus on the Henderson County courthouse lawn in Athens, TX. More specifically, they were gathered in support of the manger scene on the southeast side of the square which has been a local tradition for decades in this quaint East Texas town near Tyler.
The "Rally for the Nativity" was planned as a response to a letter from the Freedom From Religion Foundation, a Wisconsin group who has demanded that the nativity scene be removed from the courthouse lawn. The group stated that they were acting on behalf of a Henderson County resident who objected to the display because of its religious message and that it was displayed on county property.
After county officials refused to remove the nativity scene, the FFRF changed direction and sought to have a banner of their own displayed. The banner read, "At this season of the Winter Solstice, let reason prevail. There are no gods, no devils, no angels, no heaven or hell. There is only our natural world. Religion is but myth & superstition that hardens hearts & enslaves minds." The banner was briefly displayed but soon removed by Sheriff's Deputies because it had not been properly approved by county officials.
The Wisconsin group may have gotten more than they bargained for as this challenge appears to have emboldened this conservative community and make them even more resolute in their determination to oppose the FFRF's efforts. At the rally, the courthouse lawn and surrounding streets were filled with praying Christians and their supporters, waving American flags, Gadsden flags and the famous "Come And Take It" flags from the days of Texas' independence in 1836.
The hour-long rally was an act of solidarity among conservative Christians and Constitutionalists who are fed up with attempts to neuter their holidays and remove all religious references in the name of the establishment clause. They point out that the Supreme Court has previously ruled that nativity scenes on public property are perfectly legal when accompanied by other secular holiday symbols such as Santa Claus, carolers and reindeer, which is also the case in Athens.
"It seems it is no longer acceptable to express and exhibit the doctrines of our faith in the nation that was founded upon those same doctrines. That is why thousands are here today," said First Baptist Church Malakoff Pastor Nathan Lorick. He went on to say, "The stage is set and the world watches as this small East Texas town displays together what America is all about. This message has resonated in the hearts of Christians around the world. This is not because of a season or a symbol of our faith, No, those come and go. But because of our God who is sovereign and supreme."
Another local pastor, Derrick Rogers said, "It's time that for us to stand together and protect the very principals that made this nation great from its birth. We can no longer sit idly by while those who choose not to believe fight to take God out of America." Robert Welch of Rock Hill Baptist Church drew the crowd's attention to the meaning of a manger scene when he said, "We stand here today, not because we believe in a nativity scene, but because we believe in the one the nativity scene represents… Before the trees, before the lights, before the gingerbread men, before the presents and believe it or not –even before Santa Claus–God became a man."
This controversy has also gotten the attention of state officials like District 10 State Representative Jim Pitts who told Michael V. Hannigan of the Malakoff News, "That nativity scene is a holiday tradition for the entire community, and shouldn't be used as a tool for some group to pursue an extreme agenda." And in an interview with Fox News & Commentary, Texas Attorney General Greg Abbott stated, "Our message to the atheists is 'Don't mess with Texas,' our Nativity scenes or the Ten Commandments. I want the Freedom From Religion Foundation to know that our office has a history of defending religious displays in this state."
It appears that the nativity scene will remain on display throughout the holidays, but this controversy is far from over. The FFRF vows to return next year, follow procedure and request permission for their banner be displayed from the Henderson County Commissioners' Court. It remains to be seen how the residents of Henderson County will respond, but it is almost certain that they will not only look to Austin for help, but to their Heavenly Father as well. God Bless Texas!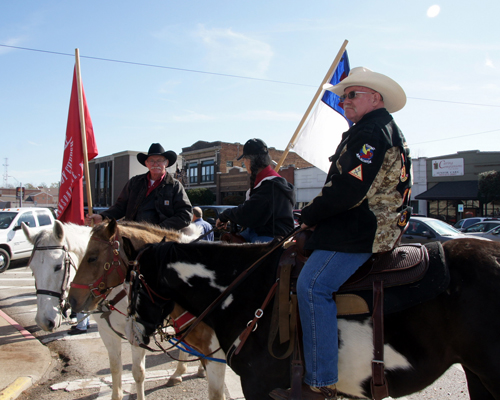 ---
Related Content: Texas Town Fights for Nativity, Tebow's Faith Mocked as Perry Vows to End War Against Religion