OUTRAGE - American Citizens Blocked From Accessing Their Reps- Call Your Congressman NOW!!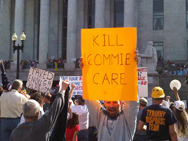 Outrage! American citizens who want to talk to their congressional representatives are blocked access to their offices!
After a loud but peaceful protest earlier today, freedom-loving Americans who are outraged by our nation's leaders, went in an orderly manner to the House of Representatives in order to get their thoughts and views heard regarding the health care bill and "deem and pass." However, these American citizens were met with locked doors and police lines blocking them from getting to the House building. Some people even broke through the lines of police! Is this freedom and liberty? Is this government that represents the people? No!
After waiting more than an hour to get into the House, a minimal number of people were let into the building very slowly. The rest of the people, who were blocked from access, assembled on the steps or left in order to get closer to the capitol where Obama is addressing (arm-twisting) members of Congress at this moment.
Call Congress now!! The Capitol Switchboard phone number is (202)224-3121.