A Lawless Presidency - Part 5 - National Rifle Association Getting Furious Fast over Fast and Furious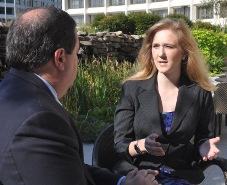 Perhaps the most lawless act of the Obama Presidency has been its role in Operation Fast and Furious. The National Rifle Association (NRA) has been out front in keeping this story in the publics eye. While in Washington, DC, last month, I spoke with NRA Spokesperson Jacqueline Otto about Fast and Furious. She told me the NRA got "furious fast over Fast and Furious".
Operation Fast and Furious first came to public attention shortly after the murder of US Border Patrol Agent Brian Terry was murdered during a firefight with Mexican gangsters in December of 2010. In the video below, I talk with Otto about the anti-gun agenda of the Obama Administration and how they created Fast and Furious to create a crisis in order to further their gun-control plans.
Otto acknowledged TexasGOPVotes role in reporting this scandal early on and keeping the story alive until picked up nationally by CBS reporter Sharyl Attkisson. Senator Charles Grassley and House
Oversight Committee Chairman Daryl Issa led the way for Congressional investigations leading to Contempt of Congress charges being levied against Eric Holder for his refusal to provide subpoenaed documents Congress required to carry out its Constitutionally mandated role of oversight.
On the political agenda of the Obama Administration, Otto explained, "Almost from the beginning there was a chorus of Administration officials using the term 90% of the firearms that were used in Mexican violence". 90% of firearms they said were coming from America."
Otto continued, "What they didnt tell us was that they were the ones sending them there - through Operation Fast and Furious. And, when that story came to light through the murder of Brian Terry and through the hundreds of Mexican citizens who have been murdered through this violence."
The proof of the gun control agenda soon followed. Otto explained, "They used the 90% figure to justify their new regulatory schemes, their new registration requirements and forcing these federally licensed firearms dealers that are in the border states to jump through more hoops, and do more paperwork and follow more requirements when they werent the ones at fault."
Many of the firearms dealers in Arizona and Texas asked to not participate in this program - fearing violence and death would result from this. They were coerced by the Bureau of Alcohol, Tobacco, Firearms and Explosives (BATFE, or ATF) to continue their participations. This was revealed in one of Senator Grassleys earliest reports.
In my Feb, 2010 article titled, Agent Brian Terry Murder - DOJ Adds to the Cover-up, I wrote, "The licensed gun dealer who sold the weapons allegedly recovered at the scene of Agent Terrys murder met with the ATF and the Assistant US Attorney as early as December 2009 to discuss his role as a licensed dealer during this investigation. Avila was allowed to continue his purchases, including two .50 caliber rifles as late as June 2010."
The investigation continues despite an internal DOJ Inspector General report which whitewashed Attorney General Eric Holders involvement in Fast and Furious. Ask yourself this, if Holder and Obama are not directly involved, how and why did Obama give Holder Executive Privilege on this scandal?
SEE RELATED STORY FROM EXAMINER.COM - A journalists guide to Project Gunwalker